Battlegear of Valor
3622 pantser
+35 Spirit
+131 uithoudingsvermogen
+56 Agility
+110 kracht
Battlegear of Valor (8 stuks)
[Legplates of Valor]
[Helm of Valor]
[Belt of Valor]
[Spaulders of Valor]
[Boots of Valor]
[Borstplaat van Valor]
[Gauntlets of Valor]
[Bracers of Valor]
(2) Set: +200 pantser.
(4) Set: Verhoogt aanvalskracht met 40.
(6) Set: kans op melee-aanval om je te genezen voor 88 tot 132.
(8) Set: +8 Alle weerstanden.
Gecombineerde statistieken.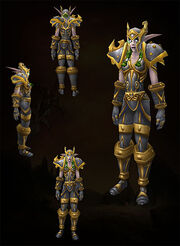 Battlegear of Valor is de eerste kerkerset voor Warriors.
Bron
| Item | Binden | Gedropt door | Gevonden in |
| --- | --- | --- | --- |
| [Roer van Valor] | BoP | Darkmaster Gandling | Scholomance |
| [Spaulders of Valor] | BoP | Warchief Rend Blackhand | Upper Blackrock Spire |
| [Breastplate of Valor] | BoP | Algemeen Drakkisath | Upper Blackrock Spire |
| [Bracers of Valor] | BoE | Trash mobs, kwartiermaker Zigris | Lower Blackrock Spire |
| [Gauntlets of Valor] | BoE | Ramstein de Gorger | Stratholme |
| [Legplates of Valor] | BoP | Baron Rivendare | Stratho lme |
| [Belt of Valor] | BoE | Trash mobs | Stratholme, Lower Blackrock Spire |
| [Boots of Valor] | BoP | Kirtonos the Herald | Scholomance |
Items
| | | | |
| --- | --- | --- | --- |
| | Legplates van Valor | | Helm of Valor |
| | Belt of Valor | | Spaulders of Valor |
| | Boots of Valor | | Borstplaat van Valor |
| | Handschoenen van Valor | | Bracers of Valor |